June 24, 2016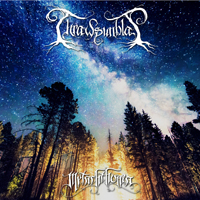 Sit down on chair, take cover by plaid, pour wine - Thrawsunblat - Metachthonia has began!.
Melancholy melody begins with a quiet tune, then revealed as a beautiful flower, shrouding its threads all around. Fires That Light The Earth, these threads run through the entire song as leitmotif - in the parts where the instruments concentrated darkness of its fury, saturating space with driving sounds, that supports the growloing vocals and clear vocals inclusions, and where symphonic acoustics and folk-drawn motive with dreamy lyrical clean vocals. In this composition has intertwined too much to describe it - it's ridiculous try to fit the world, its inhabitants, their aspirations, expectations and impressions in one paragraph. You have to listen to that - for the personal perception and own excitement!
She Who Names The Stars begins as a melancholy lyrical ballad guitar riffs underscore the vocals, complementing and confine it. The bridge between verses Instruments give vent their fury and aggression, raising the tempo. But the next verse - lyrical and melodious again. But not all the rage spew - growling is connected to the instrumental rabies. And after this rage - a short piece in which the cello solo, but rabies doesn't escape from the attention. But returns, having absorbed cello and complementing with the clean vocals. The composition coming to an end in after a hard, intense ballad, with growling vocals ... and completes its orchestration with a fiddle and a cello!
Choral chants, alternating male vocals begins Dead Of Winter after the sadness and melancholy previous compositions, here's hope and expectations hit like lightning from Thor's hammer blows. Clean vocals on leading roles in a more melodic parts, growling in a fierce and saturated. Sometimes they are woven into a single impulse.
Without preparation and reflection, rage and fury break away from the first notes Hypochthonic Remnants, followed by a short break, where the clean vocals come to the fore, growling supports at first, then leads the main party in the average rate. In the same style composition extends almost 'till the end. However, it ends by ballad with clean vocals... and the final chords of acoustic guitar fingering.
Rhythmically fills expectations by bass notes, over which hover keyboards and guitar Rivers Of Underthought, then growling guitar tremolo frames, and then clean vocals exalts song to another level. Further structure of the composition designed from the combinations of these repetitions.
In Mist We Walk quickly, relentlessly and without respite! This path is dark and mysterious, in any case don't step aside, as evidenced by the dense guitar tremolo and sufficiently ferocious growling. But, after a long and tedious journey pilgrims sit around the campfire and bard, taking his lyre from bag, leads melodious and slowly story, removing fatigue of weary travelers, that tells him in a whisper. Rested travelers unite in chorus, continuing bard song. After the break the travelers continue their campaign to reach the goal of their quest! So - the chronicle ends!