September 02, 2019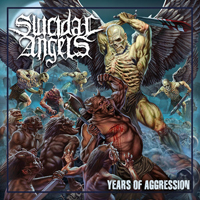 Endless War begins the Suicidal Angels - Years Of Aggression album with a stern mid-tempo action movie, intertwining vocal phrases with a rhythmic musical drive. The guitar solo in the instrumental part gives the completion of the composition a more rapid tempo, preceding the unbridled swiftness of drive the Born of Hate song. Immediately upon entering the whirlwinds of the guitar passages weave the sparkling lace of the furious drive of the main motive.
The title track continues the album, bringing the vocal to the forefront of the musical image, emphasizing the Years of Aggression title in the verses. Bloody GroundThe mesmerizing sound of the guitar solo in the introduction delays the introduction of vocals, hardening the sound of the composition to the gloomy atmosphere of the combat march.
The hasty and unrestrained swift stream of the D.I.V.A. musical drive is intertwined with vocal phrases. Whirlwinds of musical twilight envelop the harsh vocal phrases in a dark shades, but the vocal part fiercely accentuates the From All the One title in the chorus. The gloomy veil rises in the instrumental part, piercing the obscure atmosphere with a blade of doubt of the instrumental solo.
The harsh drive of the Order of Death main motive rolls in waves of a mid-tempo march, calling for a whirlwind of vocal doubts. Pulsating waves of swift drive elevate the banner of The Roof of Rats vocal phrases in a swirling whirlwind of rampant music race. A long, unhurried acoustic guitars introduction captivates with bewitching romanticism, completing the album with The Sacred Dance with Chaos ballad, interlacing the grandeur of the solemn anthem and the charm of the romance in a single musical lace.