June 15, 2018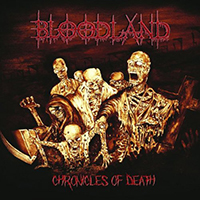 The drum solo precedes ghastly fog pulsating with whirlwinds of gloomy ghosts, complementing the angry and severe vocal phrases of the gloomy Buried Alive composition that is rolling wave of gloom and horror while opens the gates of the Bloodland - Chronicles Of Death album.
In the eerie nighttime Disturbance Of The Dead Rest dusk, the vague noise and chirping of the crickets precede the chime of the church bells, serving as intro of the energetic mid-tempo march Out Of The Grave that is rolling in the waves of a dense twilight, the vocals complement this with a deep and majestic growling, combined with proud solemn motifs in instrumental bridges.
The sombre drive manifested in the previous composition develops into a dense, energetic stream sweeping away from its path the shaman's dark spells and the priest's prayers conducting their black Ritual. The vocal part is combined with iridescent turns of screaming and growling.
Encompassing with the viscous, pensive, lulling attention and fettering consciousness introduction, the title track Chronicles Of Death explodes with a whirlwind of dark drive that carries thoughts in gloomy glimmering images to dark temptations exalted by majestic vocal reflections in the chorus, entwined with charming melodious guitar passages. So ingratiably mysterious guitar fingering intro sneaks into the gloomy limits of The Undead Wrath eerie waves and a dark drive, encompassing the chorus of ominous ghost spells that hang around so deep and so tough vocal phrases.
Developing the main motive from intro Murdered Is Expensive is carried away like a swarm of furious little beasts, sweeping away in an uncontrollable frenzy of uncontrollable anger. Then the chorus pulsates in a viscous and dense mid-tempo march.
Vocal reflections are bogged down in the dense dunes of viscous musical motifs, but then Waiting For Dissection is carried away in the impetuous flow of uncontrollable drive, the vocal only complements these rapid breaks, then merging into a musical sound.
Spinning the flywheel of the Bonesaw main motive is carried by the deadly whirlwinds by the dance of power and energy, combining the vocal phrases of screaming and growling, pensively and cautiously hiding in the brooding haze of the chorus, gently analyzing the possible consequences of the surrounding horror.