June 14, 2018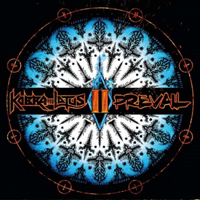 Beginning with furious questions, how someone dares to make Losing My Humanity firsth Kobra And The Lotus - Prevail II album's composition combines in its sound drive and artistic musical reflections, supplementing them with vivid vocal passages. Pulsating with a dense march into the introduction, they change with a thoughtful romantic doubt, a continuing questioning basic motive, asking again and again question Let Me Love You - in several interpretations.
Acoustic guitar's solo with the singing birds on the background enveloping wth the Ribe memories and the enchanting festival of nature, captivating thoughts in the mesmerizing images of youthful love and childhood impressions. As if continuing the thoughts of the previous acoustic instrument, the majestic hymn My Immortal creates the musical lace of the epic saga, bewitching the melodious sound of a significant ballad.
So tight and hard drive introduces epic motifs meaningfully and confidently, the vocals complete this Human Empire legend with meditations and doubts, in the bridge invoking artistry, ascending in the majestic saga of the chorus.
Combining a romantic ballad and a melodic mid-tempo composition complemented by the emotional color of the vocal part - in fact, this composition would be very profitable to open with an arrangement in another genre.
Discarding the newfangled trends Velvet Roses returns to the origins of rock 'n' roll, combining adequately melodic musical refinements and emotional vocal phrases. However, the traditional metal here is complemented by the charming shades of symphony in the vocal part and instrumental serves. Epic narrative of Modern Day Hero fairy tale captivates with an exciting basic motive, leaving an unforgettable impression.
A wave of metallized drive carries in a sparkling haze enveloping the enchanting illusions of electronic laces with mysterious You're Insane vocal phrases tending to bring the spirit of the ancient past to the distant future.
So pensive romantic ballad White Water fascinates adorably in spiritual thoughts, closer to the end gaining additional significance especially expressed in the guitar solo of the instrumental part.
Well, all musicians, artists and actors have something to inspire creativity The Chain, Fleetwood Mac cover interprets the sound much more lively and more energetic than the original - which is reflected in the video for this song. The album ends with an acoustic and relaxed reworking of composition Let Me Love You Acoustic (Bonus Track), fully embodying the atmosphere of a romantic ballad - both in acoustic musical accompaniment and more sensual and romantic vocals.