April 28, 2017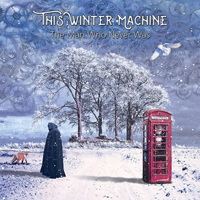 Intangible images, illusory dreams tells the nonexistent stories of This Winter Machine - The Man Who Never Was , capturing with the atmosphere of unconscious melancholy and insensible sadness!
The noise and many voices of the uncontrollable ordinary common crowd begin the title track The Man Who Never Was, this noise is replaced by a sad lyrical riff that permeates part of the composition with a sword of the leitmotif. Then the music takes on more and more new shapes and outlines, enveloping the melancholy of multitude of melodic reflections with thoughtful sorrowful vocal phrases that broadcast about impressions that were not there - but it's a pity that they were not, about the worlds that are incomprehensible and unreachable, to a man who has never and nowhere did not located.
Soft, gentle and thoughtful guitar motifs and concentrated calm vocal phrases starts The Wheel tale, creating a sublime romantic atmosphere of imaginary dreams. The course of these dreamy clouds is interrupted by the noise of rain, culminating in complex and unpredictable improvisations of solo and bass guitars, leting incoming of guitar solo to the forefront of the sound image. Complex and diverse broken vocal and instrumental improvisations completes the composition.
The laughter of the girl and the mysterious New Year's melodies begins the Lullaby (Interrupted) story, turning into an exciting instrumental saga.
The monologue of the vocals After Tomorrow Comes, addressed to the unique and unique darling, enveloped in a cloud of ornate, complex and refined musical decisions carries away to the melancholic romance of this narrative, bringing to the surface of consciousness experienced love failures.
Starting with the thoughtful, restrained competition of guitar riffs, supplemented by furious drum roll and rhythm section hard breaks, the Fractured uplifts the banner of the charming charming keyboard passage, replaced by a delicious guitar solo. Then the vocals complement the hue of their phrases with this complex and discouraging musical piece that completes the entire album with wonderful musical images.