April 28, 2017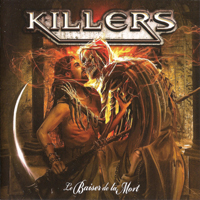 Bright creative ideas looking out, trying to change everything - but to feel Killers (FRA) - Le Baiser de la Mort in the end foreordained destiny of each of us!
Long, the introduction juggles with melodies, varying them in a plural variety. With the introduction of vocals, musical rabies focuses on supporting vocal phrases by swift furious drive. The chorus repeats Bon Gre, Mal Gre over and over again.
At the beginning, the rhythm exceeds the speed, but then the music increases the tempo before the vocal entry, again taking the rhythm to the foreground, but again accelerating at Folie Defoule frantic pace. After a long, gloomy and gloomy introduction, vocal phrases are swept by the hot winds of nervous emotions, piercing with anxiety and fears the musical image of the L'autre Cote composition. Vocals further increase emotional anxiety, pulling the nerves like jingling strings. But then, at the beginning of the instrumental part, music rises in a hopeful sublime break, but turns into alarming and swift rushes and thrilling phrases again.
The title track (Le) Baiser (De) la Mort sweeps through the space like swift tornado, fast and violent instrumental saga sounds without the shades of the vocal party.
Modern metal can not do without the basis - in this case, classical melodies acquire a vivid sound in Aimer intro, because what fascinated and enjoyed ancestors - descendants will prefer as well!
Vortices of melodies are poured into a mysterious dance, drawing swift guitar riffs into imaginary reality of Etorkizun Bidea, encompassing the unthinkable expanses of an illusory world. Vocals brings romantic mood, inspiringly and joyfully complementing the chime of the guitar strings, but the music is replaced by anxious rage.
Beginning with a lyrical ballad break, L'ordre des Choses sharply accelerates the pace, edifying vocal phrases wedges into violent rapid musical rush, which completes the entire album.