January 08, 2018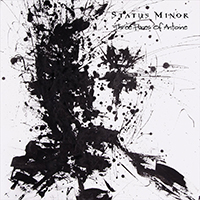 A short story about the events in life, how he met his wife Helen begins the Status Minor - Three Faces of Antoine album, creating a captivating atmosphere of touching intrigue, which he would rather want to dispel.
Even more sparking the flame of intrigue Our Common Curse reveals part of the story, in bright and exciting instrumental motives, opening vocal phrases, like the petals of a flower.
In a gloomy entry, it twists into obscure branches, captivating then unforgettable guitar solos, supplementing it with broken mysterious rhythmic nuances, but then dissolves with such a charming color of bewitching ballad Turn Back Time prayer.
The mysterious instrumental saga The Tunnel seems to creeps as the fog by keyboards motifs into the realm of riddles, hiding explicit revelations that appear in the melodious guitar solos. The song ends with a radio broadcast.
The instrumental parts are hovering, creating exciting and fascinating Free Me melodic structures, enveloping the vocal parts that are full of something with harsh meditations, then with sublime and vivid emotions.
Soft lyrical ballad Hard to Find has built on a vocal duet, combining a restrained soft baritone with a nervous emotional tenor, twisting this combination with wonderful and charming keyboard passages.
A story about life circumstances Max and Pattie - hospital and communication with doctors reveals the story from a slightly different angle.
Keyboard motifs brings the thoughtful reverie, guitar riffs adds strength and rigidity to Feel My Hunger story, vocals combine both sides in their phrases, in verses at first more inclined toward demanding and powerful, then along with keyboard passages extolling sensual emotions.
Silently and invisibly stalks Slenderman through adversity fetters, paving their way as dreamy lyrical ballad through commonplace and ordinary.
The concept album completes the Me story of the main character about his day - the usual, but unusual, ordinary - and peculiar. But, finish his delicious dinner, which was prepared by his wife.