January 09, 2018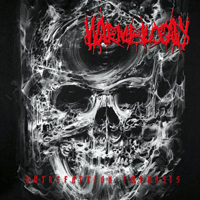 The noise of footsteps, the creak of doors and the rattle of the clockwork, which winds up by the chime of the clock and the child's voice that tells Intro (A Prayer) to all of us. Immediately after the Thousand Dead Eyes introduction, the main motive, emphasizing the melodic passages, ending with rapid throwing, begins the Warmblood - Putrefaction Emphasis album, demonstrating its inherent features in the future - a deep, powerful vocals growling and a combination of drive and melody. So powerful, proud, majestic march Unending Agony Of Putrefaction brings a sense of confidence in the coming sound, enveloping the atmosphere of confidence in the intransigence of one's own thoughts. But then a swift wave of drive sweeps the vocal phrases to a different level, then combining both these hypostases in a single musical image. In the instrumental part, music sounds at all, sweeping aside the power and drive, which brings a certain atmosphere of the lounge.
Enchanting, bright and exciting melody sweeps a whirlwind of emotions, full of thoughts and ideas, rushing through the swift stream in the verse, culminating in a dense, powerful and restrained speech. Then follows another impetuous impulse, culminating in confused vocal reflections, completing the Blood Resurrection chorus.
The instrumental ballad Cloister Of The Dead, Pt. 1 (The Prophecy), enchanting the melodic atmosphere, starts the trilogy, creating an intriguingly charming melody in the incredibly melodic mood, then the guitar solo in the mysterious fog of the main motive raises the pace skyward, hurrying to reveal its charms in all sorts of angles. Gathering the waves of drive, but preserving the enchanting melodic Cloister Of The Dead, Pt. 2 (The Bereavement) continues this saga with the vocals already, in the gloomy atmosphere of impure charms and eerie undead carrying its story through graves, tombstones and cemetery plates. Starting with a magical guitar solo, Cloister Of The Dead, Pt. 3 (The Covenant - Sinister Morphine) completes the trilogy, raising the guitar solo part beyond the ordinary, creating her many fantastic images and leaving vivid impressions. Then the music is swept in a violent stream of severe drive, driven by vocals. In the instrumental part, completing the composition and trilogy, the guitar solo returns the atmosphere of lyrical romance, summing up the trials and quests.
The lady of Balzac's age begins spontaneously in Spanish Return To Dunwich, then densely bothersome mid-tempo riffs, forcing the atmosphere of entry, then breaking into the swift sound of the verse. But in the chorus the average tempo and rhythmic music come back again, in the instrumental solo, a certain spirit of the saloon of the wild west. The same lady nervously experiencing and completing the composition of crying and yelling.
In an impenetrable fog, giving the music a certain gloomy atmosphere Supremacy Through The Carnage completes the album alternating swift drive versus raids with viscous, disturbed meditations at an average pace in the choruses.