March 14, 2017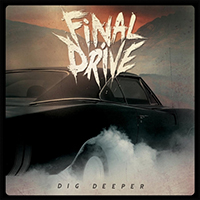 Confidently, powerfully and persistently Final Drive - Dig Deeper requires deeper and more thoughtful reflections ... about everything around us!
A dense, powerful and assertive sound carries away in the furious rushes of vocal phrases, breaking off into high-speed impulses by verses - insistently and stubbornly asserting in the chorus This Is How that taking away, so - you have to pay!
A sharp, persistent drive Built to Break reduces the created fuzzy twinkling image of a swift verse to a clear and rhythmic text in the chorus.
A viscous, fierce motive expressing frenzy and detachment in the verse, leaning towards lyrical romance The Last Time in the chorus, but no ballad whining - power and fury are invincible and persistent! But also melodic romanticism does not recede - returning in a sensual guitar solo and a chorus behind him.
Powerful blows create a saturated atmosphere of a fierce and confident ballad, not inventing locks among the clouds - and pointing out that all of us will be Six Feet Down someday!
Vortices of riffs are carried away in a swift drive, circling and indisputably leading away into its indestructible impulses. They Want It All right nod - never enough for them!
A rhythmic and clear Life Decided narrative at an average pace leads to a rapid breakthrough, crashing against the unshakable wall of a calm and thoughtful chorus, changing the structure of the narrative.
Persistent, irresistible drive entrains in the flow of their thoughts by telling Follow the Curse tale. Beneath Us continues in a similar manner, persistently and confidently - without excessive variation, thicken the darkness with dark phrases. Especially vocal singles out these aspirations in the choruses and the completion of the composition.
Sharply and abruptly, recognition Of a Killer sounds - but he is not shy and does not hide its essence, only attracts the victims - more and more. Melodious confession serves only as a prelude to the final burst of rage and self-confident phrases.
Black Out completes the album with a requirement - know your enemies, do not trust anyone, just rely on your own strength. They will have to be tested again and again!.