March 15, 2017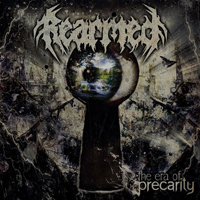 The variety of phrases and musical impulses is embodied in the Re-Armed - The Era Of Precarity !
Thoughtfully, slowly and unhurriedly Novus Ordo Seclorum enters into the destruction of the surrounding vices, inclined sounds to its side.
Then Lullaby Of Obedience violently and purposefully destroys the usual canons and patterns, maliciously and rapidly revolving in the vortex of new trends.
Thick, viscous eddies thicken the shades in the rushes Through The Barricades, continuing with the rich and direct speech and sound resistance for all.
Powerfully and sonorous Riot Act brings fury and anger into the sound, admiring its disagreement and furious sounding.
Ivory Towers сombines pure vocal, harsh and growling in its structure, changing the tempo and musical image.
Viscously, slowly and furiously begins Years Of Decay, then confidently and intrusively continuing its insistent sound.
Sharply, aggressively and irretrievably Three Headed Beast breaks off his sound in a furious rush of a stunning breakthrough. Then - a short respite and a thickening of the shades of the musical palette before the next high-speed splash. Again and again!
Thoughtful and furious aspirations of the Evolve Cycle circulate in a diverse atmosphere, creating a changeable brilliant aura. Thenthe tempo is replaced then by offering a new level of melodies in symphonic submitting of its aspirations.
A thoughtful narrative The Aftermath creates an astute atmosphere, melodic and rhythmic enslave the speed and pace in its hard-paced sounding, escaping into a furious speed in the rush before the end.
Furiously, persistently and quickly Cursed Beyond Belief breaks into a demanding impulse, not hurrying with the pace, but not reducing the exactingness. Then the atmosphere varies vocal styles - from harsh to growl, tempo and atmosphere of narration.
Quickly and stunningly Purification provokes to future accomplishments, forcing to turn around in new impulses. Softly tactfully breaking into the habitual perception of spicy oriental motifs, The Hunt Is On! creates a beautiful and inspiring end to the album. After listening to which you want to listen to it again and again!