July 02, 2017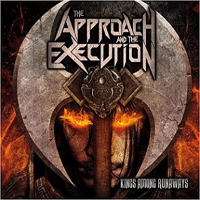 The troops stand in battle against each other, the peoples take care of their well-being, the landlords and nobility - about the honor of a kind. But The Approach And The Execution - Kings Among Runaways they are, nothing else!
Inspired, sublime and confident The Warrior's Psalm begins the album, pure vocal dominates the narrative, growling sometimes hardens the saga, but briefly and insignificantly.
After background support, occasionally supplementing, growling begins The March Of The Guillotine, introducing elements of screaming. Then the clean vocals alternates with growling, in the whirlwinds of musical dance.
The pride in their own prowess lifts the proud mood to the skies with Hymn Of Victory, the alternation of vocals boils down to several phrases. And then growling finally prevails, thickening the shades of valorous celebration.
A fast, exciting melody A Grave Marked For Two does not waste time on foggy stories and mysteriousness tales - clearly, confidently, impulsively communicates its ideas. There's no sense for the thoughtful procrastination - briskly, vigorously, persistently!
The title track Kings Among Runways pays the most attention to the main motive: it pierces the all duration like axis, the vocal and instrumental parts embody their idea in its sounding.
The composition The Plague Knows No Prejudice consists of the discussion of clean vocals with inspired and dreamy accompaniment with harsh growling, with tough, severe and furious. In the final part they are united in a single musical stream.
A brief, soft instrumental song Faith creates the introduction for the Aligned story, developing motif of the previous instrumental passage into various, epic and vivid pictures, again and again supplementing its palette with various musical tones.
Severely, hardly and fiercely Ghost Pilot completes the album, giving hard vocal phrases of dense growling and emotional great importance to the vague and mysterious parties of clean vocals.