July 01, 2017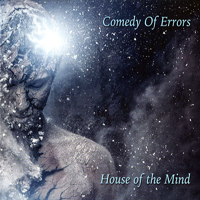 Pensive, soulful composition Tachyon begins the Comedy Of Errors - House of the Mind album, setting the basis of the melody in the guitar riffs and crowning the pensive, jerky vocal reflections with keyboards passages.
Complex, unique and mysterious guitar delights starts the title track House of the Mind, then waiting in the cosmic romance of keyboard improvisations the phenomenon of restrained, sensual vocals. Soft, gentle and charming instrumental ballad A Moment's Peace in the introduction pleases with an acoustic guitar fingering, then supplemented with dreamy riffs of an electric guitar - without hiding the intricate melody, on the contrary, supplementing it with more vivid melodic ideas. The same is done by sublime keyboards parties. One Fine Day continues the mood of the previous composition, supplementing the soft melody with ancient medieval motifs - as if transferring from the present time to the past and the future, combining the future and the past.
Again, the composition Song of Wandering Jacomus appears like separate artwork - beginning with a calm, reserved introduction - like a waiting festival, a walk along the gently lit evening alley in front of a large, meaningful and interesting festival of culture and art. Then - the vocal phrases comes to the forefront, combines with the inspiration of guitar and keyboard motifs in a charming ballad saga Starting with a quiet, restrained bell chime, Ever Be the Prize (bonus) music introduces elements of anxiety and indecisive drive. But the vocals remain so dreamy and emotional, as in previous romantic ballads. Vortices of key passages, circling around the main motive, bring in an element of the space opera. In the middle of the composition, the space keyboards passages comes to the fore, vocal reflections complement their abstract sound, the guitar riffs serves only as background. Then again the medieval symphonism returns the atmosphere of pensive romance. But the guitar solo returns to the space of a discreet drive, completing the composition and entire album.