August 25, 2017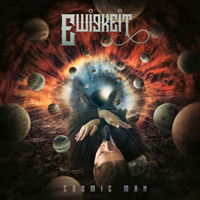 Short instrumental intro Quantum Eraser, carrying into the unknown cosmic horizons, revealing the unknown limits, starts Ewigkeit - Cosmic Man album.
Strictly, severely and confidently Cold Souls rolls a powerful wave of drive, the vocals begin with violent screaming, then pure style brings a considerable amount of romantic experiences.
Death is the PortalGloomily and rigidly beginning in the instrumental hypostasis, vocals with nervousness and emotions brings ray of light and hope grace to gloomy sound. The greatest influence on the musical image is provided by a charming combination of keyboards passages and guitar riffs.
Here the keyboards take the dominant role, the severe guitar riffs resist this order in Neon Ghoul Ride music, the vocals joins this competition from time to time.
Start a motorcycle, the brotherhood is going to fist its strength - speed and drive, melody and romance are combined in Space Horse instrumental composition in a single monolith.
After the instrumental extravaganza that takes us away in 70-80s of the past century, vocals in a peculiar, changeable and hard-guessing manner comes to the fore in Running Away from the Circus. In the instrumental solo, the same years of the last century are returning, draining a burst of young energy.
The chants of the Indian shaman begins Thief in the Sky, continuing with a wonderful flute and mysterious vocal confessions.
Confident, concentrated and unhurried motives Time Travelling Medicine Man carries away to the hard path, burdening with the burden of past memories. The vocals are tired, but wisely and expertly attach importance to this story.
So thoughtful, romantic ballad Back to Beyond envelops with the mist of dreams, unfulfilled hopes that hovers around and invisible shadows, creating an illusory matrix of imaginary reality.
Well, legends are honored and praised - Two Minutes to Midnight, Iron Maiden cover, demonstrates this band interpretation of sources of their inspiration.