September 29, 2019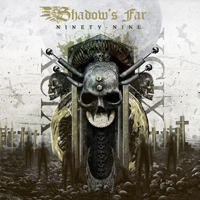 The title track of the Shadow's Far - Ninety Nine album begins with a bewitching acoustic romance, transforming into an instrumental ballad full of doubts and emotions. Then Propaganda appears as a furious stream of unbridled drive, changes into a mid-tempo inspirational dance in bridges and chorus.
Setting the mood of the One Shot One Kill composition in the introduction by its name, song brings the vocal part to the forefront of the musical image, enveloping vocal phrases with the appropriate cover of musical passages. Intensifying indignation and irritation, the vocals of Rebound Of Greed song become hardened from the harsh in earlier compositions, first to a furious growling, but then returns to the already chosen sound.
Setting the harsh and stubborn sound of the main motive, Headshot guides the vocal part along a given path, then somewhat accelerating the mid-tempo procession, giving the music stream a certain shade of rapid drive. Transforming the musical sound to the traditional for the early melodic death metal style Land Of The Dead supplements it with some shades of mystical mysteries and the influence of thrash metal. Complementing the sound with trends of solemnity and epic shades of fairy tale Our Last Sunset with the introduction of vocals returns to the style of the previous composition. Raising doubts and experiences to the forefront of the musical narrative in verse's fast drive, the chorus slowly and significantly dilutes the Cast The First Stone accents of perception.
Uncomplicatedly and belligerently I Will Spit On Your Grave raises the banner of the main motive, fearlessly and confidently marching with its shades to the eternal battle of the metal horde. Turning again to a more epic musical narrative, Forsaken retains rage and power without departing from the overall style of the album. Turn The Page completes the musical creation with a playful dance, twisted with musical passages around vocal phrases.