September 30, 2019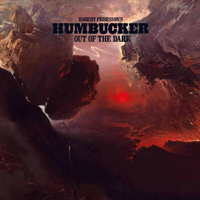 Waves of restrained drive breathe indignation, braiding All I Need Is Not to Need You vocals phrases, filled with thirst for life and the desire for freedom, by trends of desire for change at all costs. The Careless Lover main motive, accentuating notes of guitar solo and overflow of vocal emotions continues the Robert Pehrsson's Humbucker - Out of the Dark album. A soft chime of acoustic guitar strings suggests a gentle romance, however, with the introduction of vocals Entombed in Time flies away in a race of rapid drive.
Walking on the verge of a mid-tempo march and a romantic ballad These Words envelops a sensual and emotional atmosphere, even more penetrating into the sphere of passions and love experiences in the musical image of Aphelion composition. Awaiting the Return of the Light unites passions, drive and freedom-loving appeals of vocal phrases in a single musical stream.
The mid-tempo composition Castle Turns to Dust pushes the vocal to the front of the sound. Surrender begins with the epic mystery of a broken keyboard symphony, then twisted from side to side on the path of the main motive. Returning to the reign of rock'n'roll spirit, the Pick Me Up track dances in a bewitching manner and combines an invisible chain of musical eras. Everybody's Here completes the album with a bewitching unity of the romantic mood of inspired vocal phrases and restrained freedom-loving drive of musical passages.