February 07, 2018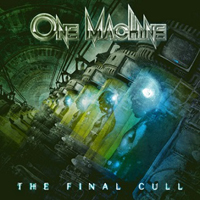 Bright, fascinating marvelous and enchanting musical decisions, the album One Machine - The Final Cull begins a wave of persistent drive Forewarning, in a verse persistently and stubbornly rolling in a stern march, openly and persistently bringing the ideas with vocal phrases in the choruses.
The title track The Final Cull continues the album, a dark fog of vague premonitions enveloping the mysterious atmosphere of sublime motifs realized by symphonic keyboards passages. The introduction of the vocals evokes a solemn march, enveloping everything around with the unique sound of the majestic ballad, savoring proud vocal phrases with significant instrumental armor.
The mysterious atmosphere of the mystical ritual Summoning Of The Soul envelops the majestic music of the main motive immediately into the introduction, the vocal begins with a muffled confession, then the vocal and music bring in the bright light of the triumphant march the vocation of their essence.
Powerful energy energetically comes in a violent whirlwind, Screaming For Light impatiently and demandingly driving down all the obstacles on the way.
The heavy, viscous musical canvas of a brooding ballad The Grand Design dreamily reveals in the vocal vocal phrases the wise lyrics of sensual romance, the order of the surrounding world merges with its essence in one piece.
Sparkling guitar solo in the New Motive Power introduction anticipates the gloomy meaningful atmosphere of the hard throbbing drive of the dark essence enveloping the vocal phrases with the dark haze of musical motifs.
The diverse ballad Ashes In The Sky begins as a lyric romance, the pensive vocals reflections are accompanied by acoustic guitar notes, then after the announcement of the title severe, viscous musical passages envelop a hard vocal emotions. Returning romanticism of the introduction completes the composition in the pre-dawn dusk.
The Born From This Hate main motive, complicated and intricate, captures attention, creating illusory images, asking questions and describing wondrous images with vocal reflections, summing up a sharp and harsh phrase. Powerful and concentrated in the thick and dense musical whirlwind of entry, Welcome To The World guitar solo breaks out from the viscous dusk, then the vocals transform their experiences with a musical image, rushing about in different directions with their uncertain, questioning tone.
The album ends with a worship of the legends, Computer God (Bonus Track), Black Sabbath cover. The music gets tougher and denser than the original, the vocal, of course, sounds different - we get a decent tribute to the source of inspiration.