March 14, 2018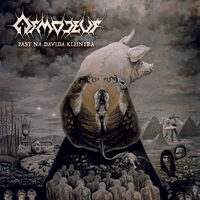 To some extent, the music of the band, its presentation and composing in a concept album Asmodeus - Past Na Davida Kleinera that have changed my point of view - this band can leave unique impressions (and, when mentioning legends - that's not copy of Dream Theater, Nevermore or any other progressive metal band at all!)
The album begins to rattle a fight or a battle, knocks the hoof and the heartbeat, ending with a brief explanation Bolero Op. 937 that flows into the next song Ja, David Kleiner, which is a narrative about being and mentioning their own stories. The music honors the main motive, and I am constantly completing its outlines and canvas with new colors, shades and intonations. In bridges, the rapid stream of drives rushing in the unbridled pursuit of musical triumph. It is worth mentioning that in music, besides the influence of medieval heroic sonatas, it is also a folk component. In the next song Lovec a Obeti, the main motif is even more inextricably intertwined with story, the vocals charmedly spell their spells on those "romantic" dusks, as if riddling puzzles over and over again.
Clocking clock and obscure whisper Corpus Beasti share a change of musical canvas. By expanding the stylistic framework, Noc Krale Davida adds medieval and gothic images to the album, romantic mumble overlapping dreamy pure vocals and annoyed, as if a rogue wicked sorcerer reads his ritual speeches, harsh vocals. Music unforgettably clashes with harsh, difficult and difficult rhythmic motifs with melodic and thoughtful guitar solo.
A brief intro V Zemi Nikoho (Hic Sunt Scorpius) displays a severe wind scattering the ashes that remain from the fire. No, there's any genre and stylistic limitations - Beze Stopy adds fast and hard musical streams - thrash'till'deathm forever and ever. But not only harder vocals and more striking music are worthy of being mentioned - this song has gathered so much of the genres that you can not even try to simplify it. Everyone will have their own experience! Cerny Vitr continue to this style to a certain extent, although it somewhat returns it to earlier outlines, adding epic power metal and proud vocal phrases. So amazing melodical atmosphere creates the symphonic ballad Tanec S Mrtvou Labuti, in which a place is found for many instruments, and sensual violin parties cover vocal confession with dim gloomy sparkles, and keyboards and guitars - everything complements each other's party and words are not enough to give the text the charm of that This is a great romance.
Pohled Do Propasti sounds as comming storm that heard from afar - so, we should wait for the next genre changes to the next song probably. After a sad romantic confession, Oko Za Oko throws a harsh power of hard drive, further expanding the genre contours of the album (to everything that has already been added to the groves, metalcore and melodies!). The swift and raffled whirlwind of the couplet ends with a rhythmic and cheat recitation chorus, which is blown away by artistic romance with a dreamy, thoughtful, pure vocal.
The mysterious darkness of the music crawls up with a powerful, vigorous march Chram Bolesti, featuring an amazing combination of musical ideas and a vocal party.
Lost ghosts are played intro on their balalaikas, then O Mysich a Hadech perfectly combines vocal controversy with progressive musical elements, enveloping these phrases with flickering obscure musical fog, and sometimes rapidly expanding the flow of sharp drives.
Significant and thoughtful ballad Dar Vzkriseni completes this conceptual album, thoughtfully and calmly completing this kaleidoscope of musical genres, inspire most music lovers to listen to the album again many times.