March 13, 2018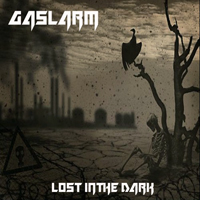 Instrumental Intro To Madness introduction starts the Gaslarm - Lost In The Dark album with violent whirlwinds, returning to the chosen lair again and again, but again returning in frenzied impulses. The viscous and dense Gasmask music can be accelerated from time to time, but again and again tightening the bonds of fetters with swift jerks, not allowing you to free yourself for an impetuous race at a fast pace. Beating in an uncontrollable rapid musical stream Risen envelops all around with the vortex of vocal passages and explodes with a storm of guitar riff in bridges.
In the cryptic twilight, mysterious vocal phrases are carried through an uncertain darkness to the rhythmic and rigid The System Is Closed chorus march. In the bridges and instrumental parts, the guitar solo brings in gusts of magical spells, anticipating the completion of the composition with a sparkling fog.
The gloomy mystery creates an obscure and dark atmosphere, twisting from the music threads such a charming melodic picture, in which the vocals come out demonicly to the forefront of gloomy shadows and Lost In The Dark again and again.
The atmosphere of battle cries and militantly disposed enemies Art Of War is absorbed and spread out by severe angry vocal phrases, supplemented by unshakable musical support.
Seen Through My Eyes is swept away impetuously in a swift whirlwind, sweeping away any obstacles from the way. The vocal somewhat restrains this race, before the chorus the spicy spirit of oriental motifs envelops the vocal reflections with a charming atmosphere, in the instrumental part the guitar solo raises this motif to the light.
A rigid and dense introduction anticipates the harsh and wise continuation of Strenght Under Fire song, from time to time carried away in rapid jerks of breeches, concluding with restrained impulses of couplets.
So epic tale in which monsters with human eyes scurry around, roar with a stern harsh and hide in obscure shadows from everyone's attention. At times a dreamy voice in a marvelous romantic ballad reminds that I See You, and checks - whoever states you always and everywhere.