August 09, 2018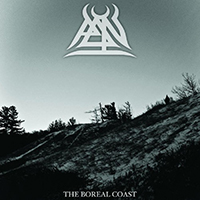 Rigidly, tightly and vehemently beginning, Eventide carries anger and wrath through the air, continuing the instrumental introduction of the Pan (USA) - The Boreal Coast album with soft and tender reflections of charming melody. But the next composition The Apothecary again rolls dense waves of power and drive, first winding a viscous and dense sound, then carried away in a fast flow of drive to the subsequent mid-tempo tough roll.
Pulsating march rolls waves of feelings and perzhivany, then raising emotions on the crest of the wave, then descending into the darkness of the impenetrable abyss. And in these waves there is an exciting sound of Alive in Lowlight track, then raising feelings and emotions, then falling into a pit of disappointments and sad views. But after these changes, the clean vocals move into the plane of reflection, interlacing their thoughts in an enchanted lace of reflections and omens.
Pumping the pulsating haze of intro Ghost Of The Northern Dunes then explodes with a wave of drive, again bringing back to the pulsating dance in a more energetic rhythm. But the instrumental bridge conceals this zeal thoughtfully and visibly, pacifying the drive for a while, returning the pulsating heartbeat to the musical organism.
The dark romance imposes its foggy tendencies on a pulsating rhythm, the vocal with restrained phrases pure and uncertain sound complements this Litany Nocturnal legend.
Having relaxed the thoughtful haze of the previous composition Rite Of Winter explodes with a violent stream of drive, the vocal unites in its party a growling with notes of harsh and screaming, carried away in a dense mid-tempo stream of irresistible rage.
Separating the composition by the noise of the campfire, Mishipeshu begins with a viscous musical canvas and painful meditations, but then from time to time, sweeping waves of impetuous drive again and again returns to dark reflections, summing up the versatility of the album.