August 08, 2018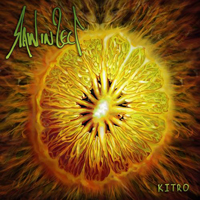 Acoustic introduction Astro turns into a thoughtful orchestral suite, starting the Raw In Sect - Kitro album with so majestic instrumental symphony.
Oriental motifs are intertwined in spicy vortices with Latin American folklore, waving such a variety of musical motifs in the Therion marvelous dance. This dance will not leave anyone indifferent!
Epic Arena motifs appeals to medieval bardic songs - however bards march not on frosty northern roads, but on hot and hot southern expanses. But this only complements these thoughtful stories with spicy shades, preserving their significance and grandeur.
The thoughtful Karnavali sound envelops the waves of memories, invoking the wonders of the past and the presentiment of the future - as if uniting times and epochs in one tale, interlacing the past and the future in a single motley picture.
Tambourines taps the ritual drumrolls, supporting the Kitro spells of the shaman, appealing to the elements and forces of nature. Guitars and vocal phrases are combined with these sacraments in a bright and impressive musical creation.
Swiftly, Lycanthropy vehemently musical motives are carried away in the race with unknown werewolves, then before entering the vocal, setting the alarmed dance to which the vocal phrases follow, twisting from side to side.
The majestic Argonautes legend glorifies valorous heroes, who ascended in memory above the disgusted burdening lands, sweeping away into the study of unknown lands, countries and seas away from the usual and ordinary spaces.
Thoughtful epic ballad Trauma appeals to oriental motifs, intertwining pensive motifs with romantic shades. Vocals emotionally and muffledly sings feelings and emotions, keeping on the verge of breakdown and keeping the sound on the narrow except.
The melodious Parapono saga returns in the days of the ancient Greek legends, rolling the entire narrative around the axis of the main motive. Continuing the trends of antiquity Phrygia circling in an uncontrollable dance, spinning in a dance of unrestrained festivities.
Spending all energy in the festivity and fun, the Gramma romance is given to sad memories of the lost, lost for ever and gone into unreachable limits. In the instrumental parts, the symphony is raised with orchestral passages to an incredible level. Fortuna as if continuing the previous composition, completing the album with romantic reflections and memories of the lost past.