March 24, 2017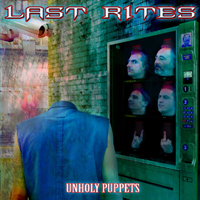 Thoughts are different, interspersed, touching us with their urges, but Last Rites - Unholy Puppets always prevails to their own!
Hard, stern thoughts of Children Of War breaks through the melodic passages, outlining on all sides the desires and preferences.
Power, rage and anger brings Humanburger for all of us. Vocals combines screaming and growling in its presentation, bringing this dish to our perception.
Stunning drive enslaved during sound of the Human Crashtest, not leaving the slightest opportunity to disown and be drawn from this powerful pitch. Melodious instrumental sounding only draws deeper into this abyss.
Thoughtful, enigmatic introductions carries away into the Waterwall, enveloping us with vortices of thoughtful sound, then throwing into the outlines of unexpected accomplishments and sparkling completions.
Mysteriously, impartially trying The Walking Dead to change all around to be like them. No! they can't - resistanse takes lot of participation, several styles of voice (growling and screaming vocals) and broadcasting. No, not at all!
Smoothly, comprehensively, combining different styles and promotions of vocals Infected Mind leads us through the whole canvas of its sound.
Nervously, violently, impulsively exploding with sparkling cannonade Realm Of Illusion takes us into its space.
Forgotten continues a rapid, unrestrained urge, combining vocals and sounding in a single rush!
Unrestrained power and fury breaks in a single impulse - try to hold Soul Reaper for its acts! Vocals ubites in screaming with growling inclusions - so let it ne! Maybe one time, or not - est dou wish!
Saga God's Slave completes the album ... if you do not understand its sound, the pitch and the impressions are not enough - listen carefully! Everything is revealed to the fullest extent (vocal disputes and are excessive, instrumental refinements and changes, EVERYTHING!). This does not mean that this song will reveal the whole album - but will unite all his thoughts together!