January 14, 2020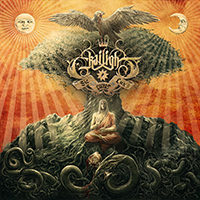 The Fortunae Fortunarum orchestral symphony with enchanting choirs of female vocals opens the gates of the Grailight - Sic Luceat Lux album, then shimmers into the grail of the next composition Homo Divinus (Iniquitous Yoke Part II), combining violent musical rage with the union of vocal screaming and growling with inspired female chorales of bridges. The furious rhythm and drive, shrouded in the mystical mystery of the echoes of ancient legends, at first bring growling to the forefront of the musical image, then intertwine The Feast Of Wargod with screaming and chorales, artistically vary the tempo of the musical narration. Starting with the leisurely grandeur of a fairy tale story, The Witching Panegyris then alternates between swift vortexes with vocal screaming with deep mid-tempo marches with growling and sparkling flights with opera choirs.
Then the fairy tales are transferred to the eastern expanses, bewitching the listener with fascinating flute motifs and preparing to perceive the My Faerie Undine enchanting tale, which begins with a fierce vocal cry. Then Zorya-Zoryanitsa returns to the edges of ancient Russia, combining the deep, harsh march of majestic growling with the enchanting unity of folklore tunes with screaming. The bewitching dance of female vocals with tunes of shrimp and background bass are transformed by muffled confessions in Russian in the middle of the Venera Stella composition, ending with a romantic symphony. Then comes a wave of furious drive, inspiring the furious Unbridled Hate thriller winged by a symphonic shades.
Thoughtful thoughts ends with the Selena's Sunless Grief epic anthem. The saddened Lo, Solemn Coronach balad with deep thoughts of low vocals ends with a furious festival of deep tough growling. But screaming bursts into the musical essence with the blade of a swift drive, calling also for clean male vocals. The epic charm of the Ambrosian Iriyan Meadows majestic anthem combines thoughtful growling with inspired opera choirs and an orchestral charm with the harsh shades of metal guitar riffs.
Combining the thoughtful reflections of deep growling with the sparkling tunes of inspired screaming and sometimes combining them together Of Volgatears And Princesswoe mesmerizes with whirlwinds of fairy tales and a variation of stylistic sparks. Returning again to Russia Сады Небесных Наслаждений completes the album with Russian-language lyrics.