April 28, 2022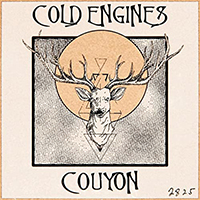 The unhurried artistry of the musical variations of the Multiplication song opens the gates of the progressive procession of the musical variations of the Cold Engines - Couyon album. The Lightning Rod composition brings echoes of bewitching fairy tales in a combination of dreamy romanticism of a vocal fairy tale and melodic tenderness of musical passages, developing romantic mystery and bewitching melody in the sound of the I, Myself And Me melodic ballad.
The soft Sleeping acoustic guitar solo is an introduction to the next musical chapter of the album, in which the vocal narration brings the Genevieve lyrical mystery entwined with the melodies of musical variations - like a wise and experienced organ grinder tells his fairy tale. After this bewitching chanson, the musician slowly counts the wealth accumulated during public performances - surprised that So Many Coins has been collected. The mystery and artistry of the Refraction musical composition captivate with bewitching melody and the mystery of the development of musical motives.
The acoustic Rapid Eye Movement guitar solo anticipates the enchanting romanticism of the Flowers And Bullets song, which complements the lyrical vocal reflections with saxophone passages and artistic musical covers, bringing the vocal part to the forefront of the artistic romanticism of the inspired sound of the Lyle Loves It charming ballad.
Distorted Waking vocals phrases and a gentle guitar solo act as an introduction to the bewitching romantic sound of the Powerful Pills final composition, which enchants with a melodic and sensual end to the musical fairy tale of the album.