April 04, 2022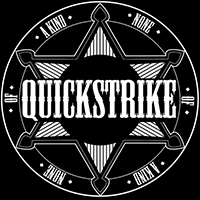 Pumping up the waves of unyielding drive, the Real Rock Disaster composition accentuates its name in the chorus, again and again developing the meaning of its embodiment. The Saint song continues the musical story of the Quickstrike - None Of A Kind album, pushing the vocal part to the forefront of the musical image, wrapping vocal phrases with whirlwinds of guitar riffs.
The intriguing mystery of the introduction and the drumming anticipates the rhythmic adventure of the Cheats n' Liars musical composition, anticipating the ascension to the top of the musical flow of the Shut them Down song of the emotional and charismatic vocal part.
After the intriguing mystery of the introduction, the Pergament mid-tempo march marches confidently and assertively along the chosen musical path. The Son Of A Gun musical composition announces the main motif with a guitar solo of the introduction, complementing the sound with harsh vocals questions that requires an immediate response.
Exploding with the unrestrained unity of drive and rebelliousness, the Nice Hair, Bad Habits song transforms the sound of the album, complementing it with notes and shades of rebelliousness and echoes of punk rock with vocal recitative. The Thorn track combines an assertive guitars solo with rhythmic pulsations, then complementing the main motif with vocal phrases.
Developing the motifs of the introduction, the Rebel Radio musical thriller rises in a storm of unrestrained drive, anticipating the end of the album with the None Of A Kind title track with the spicy influence of southern rock.