April 24, 2022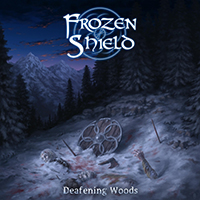 The musical motifs of the Harvest of Deceit composition captivates with the epic essence of the Frozen Shield - Deafening Woods album incarnation, then combine the musical charm of the joint dance with the vocal variety.
Celtic motifs and musical mystery are intertwined in a single bewitching sound of the Green Beards song, taking you on a journey through evergreen meadows in search of a four-leaf clover.
Developing the previous musical paths, the Path to Oblivion composition begins with sophisticated thoughts, then embodying them in a bewitching melody of the eternal charm of the musical sound of charming Celtic motifs.
The final part of this release reimagines its musical essence - first reworking the sound of the Harvest of Deceit (Orchestral Version) track in symphonic charm, then paying due respect to the pleas of the druids in the sound of the Path to Oblivion (Orchestral Version) composition and closing the album with the charming narrative of the Secrets of the Unknown song.