April 23, 2022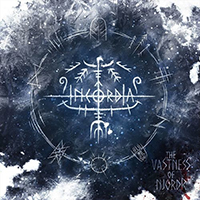 The noise of the squad walking through the snow is anticipated by the exciting sound of the Dark is Our Fate main motif, captivating in wandering through the snow-covered blizzard through the northern expanses, sung in the Incordia - The Vastness of Njordr album. The With the First Winter Comes Silence composition explodes with a whirlwind of frantic drive, wrapping around the screeching vocal narrative with a prickly whirlwind of icy sparks and anticipating the mid-tempo march of a vocal fairy tale embodied in the In Odins Wald solemn anthem with notes of a batle saga.
Guitar riffs are weaving mesmerizing covers for the Lament of the Wind vocal fairy tale, taking you on a journey through forgotten legends and eternal tales. The coverings of the coming musical narrative in the introduction of the Hybris song then wraps them around vocal phrases in anticipation of the romantic Amidst the Suffering musical fairy tale and the fighting pressure and tenacity of the Close to the Sun musical composition, pushing the direction of the path with vocal assertiveness with the combative support of musical passages.
The music of the Thornfort epic saga finds the vocal diversity of screaming and growling with echoes of sevre folklore motifs and sparkling glimpses of ancient fairy tales. The Vastness of Njordr title track follows snugly and assertively a rhythmic mid-tempo march along the chosen path of epic storytelling. The Shade Empire song concludes the album with the embodiment of its musical features and the preservation of the spirit of the Viking epic tales.