June 21, 2022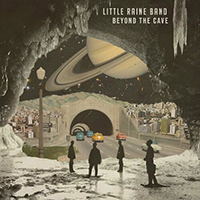 The soft and mesmerizing musical motifs of the Heart Of Stranger song envelop in a peaceful atmosphere and create musical prerequisites for the further development of artistic variations of the Little Raine Band - Beyond The Cave (EP) musical release, captivating with a mesmerizing saxophone solo with a soft lounge of accompanying musical motifs.
Musical charm with notes of oriental motifs envelops the listener with the artistic charm of delicate musical lace of the Eventide instrumental track. Vocals with intriguing notes and echoes of obscure omens join the musical artistry of the New Beginnings song, which sums up the musical phrases with a musical chime.
After an intriguing introduction, the vocal part moves to the forefront of the musical image, again and again emphasizing the Echo Chamber title in the chorus. Artistic improvisations of musical variations in the instrumental part enchant with melodic openings of guitars and keyboards musical passages.
Progressive musical variations weave enchanting veils for romantic musical reflections in the enchanting lounge sound of the Plato's Box ballad, creating a mesmerizing musical atmosphere.
Intriguing with impressive and captivating musical variations, the Caravan Of Man composition captivates with the enchanting mystery of musical variations, enveloping the pulsating heartbeat of the leistmotif, while maintaining the mysterious charm of musical variations and in the Your World final composition of this release with the sensual romanticism of guitar and enchanting keyboard variations, as if adding love mevories to the sound of variations.