June 21, 2022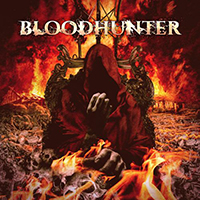 The visitor asks about the entrance and asks to let him in, then the screams The First Insurrection gloomy introduction of the Bloodhunter - Bloodhunter album is transformed by the screams of the victims and ends with the rhythmic procession of the dark march, anticipating and giving the basis to the sound of the main motive of The Bloody Throne composition, complementing the rhythmic march with musical variations and explosions of drive that develop in the bright sound of the dark symphonies of the Ancestors Ov All Gods musical thriller.
Music creates a twilight cover for the vocals of the Dying Sun mysterious tale, complementing the storyteller's mysterious narration with the appropriate musical charm. The leader's speech in the introduction anticipates the explosion of the furious musical drive of the Ezequiel instrumental track, artistically embellished with a charming guitar solo and melodic musical variations. The Come To Me Sorrow song develops instrumental motifs in the mesmerizing musical lace of a dark fairy tale.
The drum roll of the battle march develops into the militant pressure of the Embrace The Dark Light musical thriller, crowned with commands and instructions from the squad leader. The bright guitar solo of the introduction spins the musical flywheel of the Age Of Darkness composition, basing the main motive of its solemn march on these twists.
After an intriguing intro, the Saints Of Sand song elevates vocal phrases to the crests of musical waves, then the music accelerates sharply in the frantic drive of the Bring Me Horror fast-moving chase. The self-titled Bloodhunter track closes the album with the insistence of a confident march, combining vocals prominence with progressive variations in tempo and sound.