June 28, 2021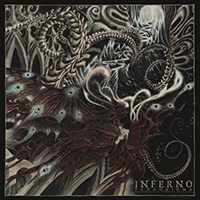 The Decaying Virtualities Yearn for Asymptopia track acts as intriguing mystery of the instrumental twilight of the accession of the Inferno (CZE) - Paradeigma (Phosphenes of Aphotic Eternity) album, fascinating the forebodings of the upcoming musical fairy tale. The Wailing Horizon composition complements the musical atmosphere of twilight haze by vocal phrases, while maintaining a mysterious ambiguity, sometimes recking the swirl of a frantic drive, sometimes pursuing in an atmosphere of obscure mysticism.
Pasting the final storming of the previous song, the Descent into Hell of the Future is marching the mid-tempo march of the epic anthem, wreatful guitar riffs and vocal phrases with a smoke of keyproof. In instrumental bridges, musical passengers complement the wordless chorals backgrounds, then succumbed to the acceleration of the musical cloth in the discharge to the valiant of greatness.
The Phosphenes intro's guitar solo entry fascinates the majestic mysteriousness, then slowly and thoughtfully developing after the intriguing pause, enveloping the upcoming musical continuation of mystical ambiguity. But then the music of the song develops into a solid musical stream. Following the twilight of the musical entry, vocal reflections of the Ekstasis of the Continuum composition go on the forefront of the musical image. However, the musical twilight do not give up in their perseverance, whining the role of musical motives with the omissions of mystical spells. The Stars Within and Stars Without Projected into the Matrix of Time track completes the album with a combination of the dark magnitude of the epic saga and the waves of a restrained drive.