November 05, 2021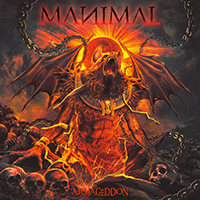 The gloomy musical mystery with the chime of the bell ends with a demonic laugh, anticipating the introduction of vocals, emotionally crowning the Burn In Hell dense mid-tempo march. The title track continues the Manimal (SWE) - Armageddon album tightly and rhythmically driving the steps of the drive, then combining this rhythmicity with the acceleration of the musical tempo, somewhat restraining its acceleration with vocal narration.
The intro guitar solo anticipates the development of the Slaves Of Babylon epic fairy tale with such unexpected and mysterious variations of vocal part and instrumental composition. The Forged In Metal pumps up waves of unyielding furious drive, striking vocal variability sometimes complementing the vocal part with harsh growling. The Chains Of Fury marches with a rhythmic procession of a medium-tempo march, complemented by the emotionality of the vocal part.
Entering with a bright guitar solo, the Evil Soul song is transformed with the introduction of vocals, retaining melody, but complementing the sound with drive and bright vocals chants. After the guitar solo, the vocal part creates the mystery of the sound of the Path To The Unknown composition. Entering the vague march of the gloomy march, the Master Of Pain is transformed with the introduction of the epic procession of the dark anthem.
Capturing attention with the sound of the main motif, the Insanity track takes vocal experiences to the top of the sound, developing a similar direction of musical thought in the The Inevitable End last composition of the album, brightly raising vocal banners in the chorus.