November 09, 2021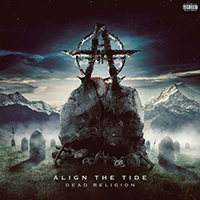 Instrumental Intro sets a mysterious intrigue for the further development of the musical essence of the Align the Tide - Dead Religion (Deluxe Edition) album. But already the sound of the Comedown song complements the musical drive with mystical shades with fierce vocal appeals, sometimes pacifying for a short time in a melodic atmosphere.
The gloomy musical atmosphere creates the way for the Sicko Mode gloomy march. But the Blacklist composition, while maintaining the rhythmicity of the sound, transforms it with shades of rage and indignation of vocals tunes.
The Dead Religion title track marches in mystery from the coming changes, accompanying the vocal experiences with a dense rhythmic drive. The Dark Passenger song, after an intriguing introduction, is rising in a whirlwind of musical disagreement and resistance. The Retribution transforms resistance into vocals anger.
Beginning with a twilight ballad, the Stillborn composition is transformed into waves of assertive drive, combining music and vocals in a whirlwind of musical rapidity. The Lucid Life musical thriller combines musical drive, vocal emotionality with melodic covers. The combination of several musical styles and the variation of the vocal part gives the Welcome To Hell song a very peculiar sound, anticipating The Golden Throne epic saga, which completes the album.