November 04, 2021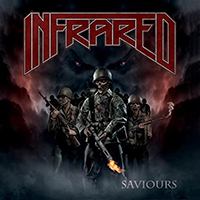 The mysterious guitar solo of the intro concludes with a rhythmic muscular march, foreshadowing the Project Karma vocals intro with a swirling guitar solo, then lifting the vocal phrases to the crests of jagged musical waves. The Demagogue rolls in waves of mid-tempo dusky march, then brings the vocal part to the forefront of the musical image, accentuating the conceptual orientation of the Infrared - Saviours (EP) album with the lyrics of this composition.
The ringing of the bell and the drumbeat are like a tribute to the exploits of the Saviour, continuing with the introduction of the vocals, leaving the bell ringing in the background of a musical composition that straddles the line between a celebratory ballad in the chorus and a solemn march in the verse. The Fallen after a long introduction, he continues the sound with the epic ballad, complementing the musical charm of pensive vocal reflections with the bright artistry of the guitar solo instrumental part, ending the sound with a condensation of sound in the rhythmic sound of the battle march, crowned with a melodic guitar solo.
Swiftly and uncontrollably, the guitar solo creates a race of furious drive, then crowned with the vocal part of the All In Favour song. A significant march of introduction sets the pace of the rhythmic procession of the They Kill For Gods epic saga, emphasizing the rhythm of the procession again and again. Beginning with a brooding introduction, the Father Of Lies song then gives more and more importance to the vocal part, emphasizing and escalating the importance of the terrible mistake made. After the reflective introduction, the Genocide Convention track concludes the album with a deadly dance of a musical thriller.