May 03, 2018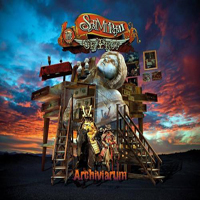 Incredible artistry splashes out in the whirlwind of complex and ornate musical improvisations, fascinating mysterious passages in the instrumental extravaganza Keep The Ball Rolling, after such a mysterious and progressive beginning, pushing aside the excessive imagery, completing the beginning of the The Samurai of Prog - Archiviarum album with romance and folklore motifs, like fabulous fairies making their influence in the musical image. In the final part, guitar and keyboard improvisations are wonderfully supplemented with a violin. The mysterious fog envelops Ahead Of Fortune intro with thoughtful meditations, as if assessing the past through the prism of accumulated experience. In this composition the vocal supplements the progressive romance with its experiences and reflections.
Majestic and full of significance the La Oscuridad composition combines the Spanish lyrics of the vocal duo of male and female voices with sophisticated musical motifs, combining waves of anxiety of the Inquisition with the coming adventures of the conquistadors.
The flute complements the progressive musical Cristalli romance with fairy-tale colors, the vocals continue to juggle with moods, bringing Italian lyricism in an emotional romance that captures feelings in one. Mysterious playfulness is woven with mysterious alarms in an exciting instrumental suite, combining different shades of experience - as if a fairy rabbit often changes directions, opening more and more new doors. Alice also has to find it and ask for it - but it seems impossible to find these fairy tones in the kaleidoscope.
The organ and solemn background complement the proud procession of the The Sleeping Lover main motive, like the valiant knights escorting the cavalcade, carrying the enemy banners along the central streets of the city to their esteemed ruler. But then the vocal introduces the shades of experience, pointing out - that in this tale there are also worries, feelings and doubts. Not everything that seems ideal and infallible turns out to be really so for all points of view.
Vocals capture the From This Window dominant position, shimmering with glimpses of add-ons and echoing a playful tune, combining in a jocular dance. In the instrumental part, musical improvisations are exposed to the cheerful and playful nature of the composition. The final part complements the sound of tired tiredness, as if fed up with games and entertainment.
In the shining haze, the frozen Ice images freeze, trembling in the frosty air with marvelous ghostly statues, crumbling to illusory eyes in the glare of the sun's rays. The composition is dominated by wind instruments, complementing with their majestic parties quiet music, slowly developing its ornament Easy and leisurely pianist develops an incredibly calm and atmospheric romance Predawn, providing rest and relaxation before the final composition, playfully and enthusiastically rolling in a wave of incredible promises, promising anything to tempt their blessings with their queen. But - they have to be Heroes only one day.