March 23, 2018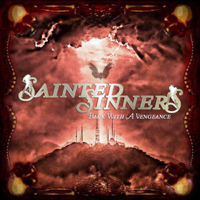 The first track of the Sainted Sinners - Back With A Vengeance album goes through so many variations and directions that such a single would be a complete creation! Starting with a thoughtful and romantic melody then promotes the mid-tempo drive, then turning into a romantic brooding ballad, but again returning to the pushy mid-tempo drive. In the chorus the song accents the Rise Like A Phoenix title again and again.
The ageless rock'n'roll spirit in Burnin The Candle song clearly performs that it invariably evolves regardless of time and mood.
The title track Back With A Vengeance begins with a playful vocal phrase, continuing with the dominant guitar solo that seeks out its emotions and experiences, but it's not so easy to find in a changeable musical image. Then the vocals return to the spaciousness of the bright artistic image, bringing shades of Broadway shows.
In any relationship, from time to time there are disputes, confidence sometimes influences decision-making - which is what a vivid fascinating ballad encompasses, emphasizing again and again by Tell Me I Was Wrong words which means that the truth is subjective for everyone.
Guitar riffs and the background keyboards passages part along with the vocal changes bring a progressive atmosphere to Nothin Left To Lose song that somewhat detracts from the sound of previous compositions.
More dense and sonorous riffs roll a dense musical atmosphere, bringing to the Waitin Till The Countdown Begins forefront the vocal reflections in a simpler and more accessible form, while diversifying it with various musical tones.
Slowly relying on reflection, the sonorous ballad Let It Go saturates the mind with a multitude of ideas that in no case should be let go. When The Hammer Falls continues a similar mood, slowly thinking about possible events and changes. It should be noted a very artistic and spectacular guitar solo in the middle and the final segment.
Without changing the leisurely pace Pretty Little Lies brings notes of blues rock, enveloping the romantic sparks of the keyboard background with his musical narrative. The composition Gone But Not Forgotten that is completing the album partly continues this trend, but the instrumental part incredibly diversifies the sound, brightly improvising a solo guitar amid the enchanting and mesmerizing passages of the keyboard extravaganza.