March 22, 2018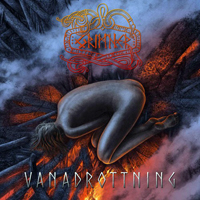 Proudly and meaningfully title track creates atmosphere of the ancient saga Grimner - Vanadrottning, then combining folklore elements with a metal drive, combining dreamy clean vocals with brooding growling.
Soft acoustic introduction brings the breath of ancient legends, then the Avundas Hennes Ungdom main motive brings the atmosphere of severe Vikings, honoring their valiant exploits. In the instrumental part, the flute precedes the vocal phrases, pushing back the energetic drive to the background, completing the composition with soulful clean vocals phrases.
Folklore motifs break out on the En Fallen Jatte foreground, severe rock riffs complement them on the background, bringing an energetic pace to dancing in a changeable rhythm music.
Epic folklore motifs are taken from everyday experiences in ancient Kvallningssang reflections, rolling the runes of prophecy in verses and summing up the choruses when the voices of norns can be heard on the background of musical patterns. Before the brief instrumental part, thoughtful reflections ring over the impenetrable fog of anxious forebodings, but the final segment is as epic as the beginning.
The dancing festival begins as En Vilja Av Jarn intro, then complements the motives with meditative notes, leading away from the field of boundless joy and unrestrained fun. Vocals further complement the significance and importance of this event, discarding thoughtless fun.
The majestic melody accompanies the disturbing questions of the growling, wrapped in iridescent guitar passages, in the Fafnersbane verses to ascend into the chorus with dreamy confessions of pure vocals in the choruses. In the instrumental part, the collective dreams are transformed into meditations, in which pure vocals complement the sound with harsh severity.
Slowly and meaningfully, Vart Blod Vara Liv sings the experience of adversity, enveloping in a fog of deep and thoughtful ideas, the flute brings vivid impressions into this gloomy and thoughtful saga.
Discarding anxiety and meditation Dodens Dans is carried away in the impetuous race of unrestrained dances, somewhat hesitating before the introduction of the vocal, but carried away in the impetuous streams of instrumental bridges.
Agers SalarIn the introduction, the chorals on the background add mysticism to the sound, then rhythmically and clearly broadcast the vocal part, persistently advancing the musical atmosphere of the verse, in the bridge before the chorus again returning to the shades of entry. Then, sorting out these combinations in a variety of variations. Final vocal phrases are preceded by an incredibly romantic atmospheric part.
Apparently, the romanticism of the instrumental part needed a separate embodiment, because the epic saga serves as the leitmotif of Sangen Om Grimner composition, rolling in a combination of dreamy pure vocals from an incredibly expressive romantic ballad in which the growling vocals occasionally only adds brief phrases from time ti time.
The last track number Freja Vakar stands out from the rest of the album - it vigorously, more driving and sounds much tougher! Which, however, does not discard all shades of northern folklore - only gives them a more rhythmic and fierce support.