March 24, 2018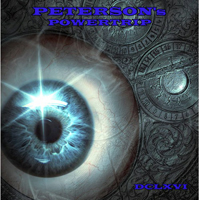 A wave of rapid energy in the I Almost Cried introduction is then repeated in all instrumental bridges, the vocal gives the first composition of the Peterson's Powertrip - DCLXVI album a dimension and is thoughtful, sometimes swirling in desperate rage and restrained anger.
Pulsing in a mysterious intrigue manner continues the album in a measured march Fists Of Fury, sometimes swept up in a furious drive of instrumental inserts, but again and again returning to reflective reflections. This Is Your Reality continues this style, even more meaningful and significantly accentuating the sound of vocals, taking it to the forefront of the musical image. The instrumental part throws out a wiser thoughtfulness, twisted with a fascinating guitar solo in the vastness of unimaginable romance.
The music of the main motive is combined in dance with the Live For Speed vocal part, replacing in this dance the presenter again and again.
Rising from the ashes of forgotten legends, the majestic guitar solo sets the basis for the A Deranged Regime leitmotif, parts and sections of the composition are separated by short explosions of a powerful drive. Guitar solo in the instrumental part carries with an uncontrollable charm.
Slowly, carefully constructing the main motive from various elements Fire Inside My Brain meaningfully and stubbornly parades the learned march, emphasizing features in bridges and sometimes indulging in vigorous breaks. The chorus precedes the short solo bass of the guitar, then this design continues.
The unrestrained energy of the rock"n"roll drive sweeps out any impetuous resistance from the path with a rapid impulse, fighting and furiously moving along it to the chorus, in which, significantly and clearly emphasizing the primacy of Heavy Metal over any other directions in music.
Waltzing and dancing in a romantic waltz, with the obvious and charming influence of classical music Svanbjerg Valsen (Instrumental) gives the album an artistic charm and significantly expands its stylistic framework.
Powerful and confident crowd of outraged townspeople demands the sheriff sooner than this so annoying thief. In the verse they scream their accusations, in the chorus clearly demanding Hang Him High, otherwise they will not stop the atrocities.
Executed by epic grandeur, the entry Reborn In A Lake Of Fire develops into a confident and powerful march. Vocal slowly indicates their instructions, sounding harder and harder than the rest of the album. The instructions of the dark lord sometimes pause, returning the proud march of the intro.