November 19, 2019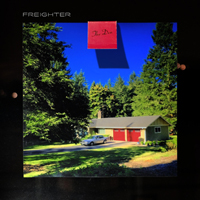 Swiftly and uncontrollably Psychic Reading '94 bursting into variable dances, introducing at the beginning of the Freighter - The Den album the influences of uncontrollable freedom and interlacing an incredible multitude of musical styles in a progressive musical narration.
Drum roll calls for bitterness, tightening the sound of the Future Duke song and escalating the trends of unbridled severity. The introduction of vocals introduces unimaginable variability and certain trends of medieval tales and legends.
Progressive instrumental variations captivate indefatigable fantasies, pushing the vocals that accentuate the name of the Presto Change-O song to the background. Vocals comes to the forefront of musical variations of the Hot Car Death Dad composition, intertwining vocal phrases with progressive musical improvisations, mesmerizing with mystery and originality.
Fueled by an explosion of drive, then the Stick Around and Do It Right Until You Get It Perfect song brings an incredible multitude of creative variations, dragging incredible transformations into a mysterious band. The pulsating drum roll sets the mood for the introduction, but then King Pigeon song again and again varies its musical image - transforming the vocal part and musical passages.
Flying away in a whirlwind of unstoppable drive Harbor of Dieppe brings uncontrolled rigidity to the album, vocal phrases vary tonality and bring even more variations to musical improvisations. Cimitero finishes the album with a pulsating mid-tempo march, introducing some sludge into the musical style with the introduction.