November 19, 2019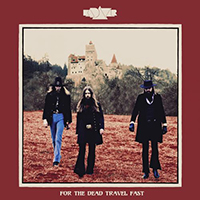 The muffled musical intrigue of The End track creates a painful atmosphere, artistically braiding the perception of a twilight symphony and setting the mood for the KadavaR (DEU) - For the Dead Travel Fast concept album. Then The Devil's Master complements the sound with some notes of drive, however remaining in the mid-tempo gloomy anthem and enveloping vocal reflections with the epic grandeur of musical artistry.
But the energy of the drive bursts into the rapid stream of the Evil Forces intro, however, the vocals move musical variations into the realm of mysterious twilight, bewitching the mysterious mystery of their narrative. Then Children of the Night continues the album, captivating with fascination an exciting main motive, summing up the story by emphasizing the chorus with the name.
Enveloping vocal phrases with the impressive charm of twilight tales Dancing with the Dead gives the music a mesmerizing shade of dark romanticism. Forcing a bright surge of dark melody into the Poison introduction, musical revelations recede before vocal reflections, then weaving together in an impressive musical extravaganza.
Vocal phrases, enchanted by bewitching musical variations indicate the path of development of the Demons in My Mind composition. But the music of instrumental fragments captivates with impressive artistry. The muffled mystery of the Saturnales soft ballad captivates with a soft whisper, a pacifying chime of guitar notes and distant covers of the keyboards background.
The final composition of the album Long Forgotten Song begins with the muffled speeches of the sage, then rebelling with a majestic story that exalts a bewitching fairy tale. Instrumental bridges elevate the chalice of rapture with musical melody, preparing for the majestic anthem of the chorus.