January 14, 2018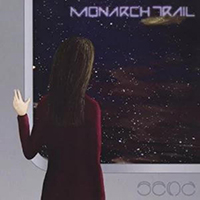 The charm of calmness and confidence is bestowed by the soft atmosphere of the instrumental ballad Station Theme, which starts the Monarch Trail - Sand album with an incredible melody, weaving unique and unforgettable musical artwork from the keyboard passages. It should be noted that despite the magical and diverse music composition remains incredibly atmospheric.
Vocal complements with First Thoughts this enchanting atmosphere with sensual phrases, in a charming ballad, as if preparing listeners for the next song. The sublime palette of the keyboard part serves as a calming background, the guitar short and restrained solo complements this symphonic ambience.
As before, the soft and pensive atmosphere in mysterious improvisations and bright instrumental breaks continues the alarming atmosphere of cautious forebodings, given by vocal phrases at the beginning of the Back to the Start composition. But the main motive, embodying intricate meditations, touching many options but creates a hopeful mood, completing the composition with arrogant solemn passages.
But the proud breaks do not dispel the Missing premonitions that are covered with meditations by the veil of enchanting cosmic musical ideas in keyboard improvisations that lift thoughts away from everyday cares.
Experience and meditation calms with the touching dixieland music on the Charlie's Kitchen, which disperses in the haze of evening gatherings in a cozy cafe groundless anxieties, fettering thoughts with fears.
But the Another Silent World instrumental song by its keyboards passages once again wind up cheerless premonitions, anticipating the title track.
Well, it should be noted that this composition Sand, which completes the sound of the album, is half its length. After disturbing keyboards passages, there are so diverse and artistically charming improvisations, musical decisions and delights that can be described endlessly - that's because every audition will leave different, but bright and wonderful impressions.