January 15, 2018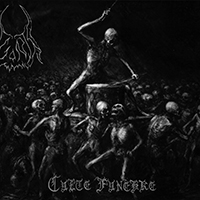 In a violent and powerful intro Noirceur d'hiver rides on the wings of harsh, tough and severe drive, the Agonie - Culte Funebre album beginning overthrows any resistance. The vocals comes first as a deep, severe growling, then supplementing the musical story with a sharp screech of screaming accompanied by so charming musical passages.
The raucous rain and soft melody envelops Austere with the wandering bard's tale, sheltered from the bad weather under the cover of a cozy tavern. But then a powerful drive turns this saga into a dark enchantment, exacerbating the dark charm of musical motifs with demonic screaming vocals. But the peace and peaceful ballad comes back again, supplemented with a guitar solo, but this calm ends with an even more violent and violent explosion of drive, vocal phrases in which indulge in mysterious reflections.
Softly and unhurriedly begins the charming epic saga Sur tes ruines enchanting with its dark charm, enveloping the dusk of ancient legends embodied in such a deep and fascinating legend.
Gloomily enveloping magical mysteries, surrounded by a fog of spells and mysterious rituals Ivresse Mortuaire immerses in the abyss of black magic, evil undead and necromancers that controls all of them in the catacombs and dungeons. In the instrumental part, the mysterious guitar solo gives an atmosphere of pacifying romance, after which the vocal part of the screaming on the background is complemented by the growling.
After a calm, soft and unhurried introduction, which have performed by leisurely guitar fingering break, Abaddon continues this fairy tale of dark magic, sweeping waves of impetuous drive, from time to time arranging respites. But in the quiet respites and in the violent whirlwinds of dark legends, there is clearly presents so bright melodic vein.
A burning bonfire, a wolf howl are superimposed on the background of the organ saga, the weeping of cattle and children together with a mysterious distorted legend combines in Funerailles d'un monde, leaving the riddle that completes the album.