January 14, 2018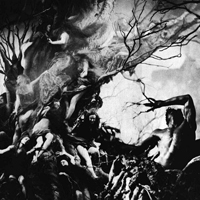 A furious break with foggy distorted phrases starts the Abigor - Hollenzwang - Chronicles Of Perdition album in an obscure intriguing atmosphere, then the All Hail Darkness And Evil sound merges into a rapid twilight stream of a dark melody enveloping the gloomy dance of mystical spirits enchanting by their spells.
The dusk slowly envelops the mysterious atmosphere of the mysterious gloomy legend, embodying it in the epic saga of a mysterious Sword Of Silence ballad.
The Cold Breath Of Satan continues the music in similar atmosphere, turning the saga into an even darker legend, entangling invisible fetters, sometimes breaking off in impetuous impulses, ending with sharp gloomy phrases.
Reflections of the ancient sage are covered with Our Lord's Arrival - Black Death Sathanas gloomy saga, then rushing into an unrestrained race, engulfed in a dark rage into which wondrous tunes, guitar solo and several mysterious phrases have woven. A vague fog of illusions envelops with dark charms of None Before Him song, then the short phrase of the announcer seems to break the melody, rushing in a convulsive impulse to the vague phrases of the vocal on german, creating a mysterious gloomy atmosphere. The wondrous mysterious riddle sluggishly and gently confuses in the symphonic atmosphere of Olden Days intro, then developing a dark ballad in the enchanting illusory ritual.
Fury is embodied in a broken, complex and ambiguous Hymn To The Flaming Void atmosphere, rushing from side to side dismissing any assumptions, then a powerful rhythm tries to subdue such a volatile melody, but it fights and resists any attempts to limit its freedom.
Solemnly and proudly the epic chronicle Christ's Descent Into Hell, announcing the endless struggle between good and evil, light with shadow, stars with darkness.
Mysteriously beginning in an incredibly melodic introduction, Ancient Fog Of Evil completes the album while turns from obscure melodies into a furious drive, carrying away on ghostly wings through impenetrable clouds.