January 28, 2021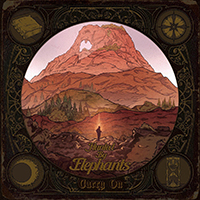 Viscous musical procession of the Let Me Be composition brings animation and charming melody to the guitar solo of the instrumental part. The title track continues the Hunted by Elephants - Carry Onalbum, bringing bright animation of guitar riffs to the instrumental passages and inspiration of vocals phrases. The Weapon complements the album with a chime of acoustic guitar strings in a romantic ballad.
Densifying the musical sound and making it more rhythmic, the Wiseman retreats with a musical procession before the vocal narration of the verses. The muffled sound of a mysterious ballad envelops with vague premonitions in the Ghost Song twilight haze. Accelerating the tempo, the Keep On Giving Me Loving brings the rush of restrained drive to the album's sound.
Once again, condensing and slowing down the musical procession, the Electric song envelops the vocal part with veils of musical reverie. The Towards The Light becomes even more leisurely in the acoustic tale of a brooding bard. Rolling again in waves of a dense march, the Believe In Something rolls out a musical canvas with significant vocal phrases, again returning to the acoustic ballad in the final song of the album Take Me Away.