January 28, 2021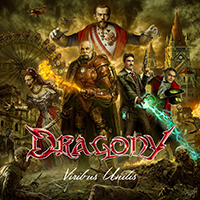 The epic influence of classical music in the On The Blue Danube enchanting symphony is the introduction of the Dragony - Viribus Unitis album, then the whirlwind of the fast-paced drive of the Gods Of War song, complemented by vocal inspiration. The valiant procession of the mid-tempo battle march begins the vocal line with muted phrases, then lifting the banners of vocal greatness to the top of the Love You To Death track's musical image.
Accelerating the rhythmic essence of the composition to a high-speed drive, the Magic crowns it with vocal charm and symphonic melody of guitar solos and keyboard passages. The severity of the Darkness Within battle saga combines the rhythmic procession of a stubborn march with epic motifs of vocal narration. The A.E.I.O.U. (Feat. Georg Neuhauser) sounds on the verge of a fairy tale and a romantic ballad, wrapping vocal phrases with symphonic covers of instrumental parts that vary in tempo and rhythmic pattern.
The Viribus Unitis title track combines the influence of classical music with the fast-paced drive of metal music. The Golden Dawn song's introduction of bagpipe tunes brings the influence of Celtic folklore, continuing in development in the format of an epic saga. Combining the charm of musical melody with the pulsating melodies of the instrumental component, the Made Of Metal (Cyberpunk Joseph) complements these motifs with futuristic echoes of industrial music.
Musical motives of the Battle Royale introduction raise echoes in memory of the exploits of the legendary heroes, continuing immediately with the Legends Never Die vocals chorales, complemented by a dancing musical round dance around vocal phrases. Changing the lyrics to the band's native language, the Haben Sie Wien Schon Bei Nacht Geseh'n concludes the album with a thrilling tale that brings vocals to the fore.