January 25, 2020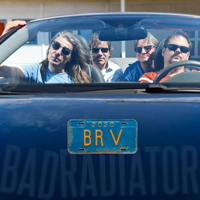 The harsh buzz of a guitar solo ends with the Long Way From Home emotional vocal part, which has been entwined by the artistic strings of keyboard and guitar passages at a leisurely pace. Heart Attack continues the musical narration of the Bad Radiator - BR V album with romantic reflections of the vocal, slowly and pensively making their way in the couplet, ascending in a chorus in a whirlwind of artistic inspiration.
The pulsating Coming Home musical march crowned with perfumed vocal phrases is entwined with an enchanting romantic background of keyboard artistry. The rhythmic procession of the Came Without a Warning song goes along the line between a mid-tempo march and a brooding ballad, connecting vocal and musical parts with threads of keyboard variations.
Transforming anxiety and thoughtfulness into an inspired rapture Rock n Roll combines vocal, guitar and keyboard parts in an exciting waltz of an inspired ballad. Returning to the rhythmic pulsations, the sound of Fake composition shakes the universe, combining a rhythmic musical procession with epic vocal appeals.
Bringing notes of heavy blues King of the Lonely solemnly walks along the chosen path. Returning to the intro to blues-related pensive motives Tell Me Why I creates a bewitching atmosphere of a pensive ballad. I Can continues a thoughtful, wise narrative, complementing the doubts of the main vocals with a background hype. The soft and pacifying keyboard solo opens the way for vocal memories, completing the album with an incredibly calm Falling Leaves ballad, building its narrative on memories of the past.