June 05, 2022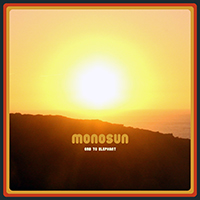 Slowly, thoughtfully and mysteriously, the Solar Dune composition envelops us with an intriguing haze of spicy desert winds, combining in the intro of the Monosun - Orb To Elephant musical release the mystery of obscure oriental legends and the persistent and confident step of the main motif.
However, the finale of the musical story is a pause and an introduction to the next composition, beginning with the knocking of tambourines, setting the rhythm and mood of the halt in the wanderings of desert coffee makers, then becoming fascinating guitar turns of the musical essence of the Timiri instrumental track.
Rhythmically, persistently and persistently, the Caravan Radio composition continues the spirit of desert wanderings, wrapping pulsating rhythmic bursts and unclear vocal background melodies with sparkling musical passages, weaving a charming circle of musical atmosphere.
The Orb To Elephant title track concludes the album, rolling waves of tenacity and intransigence in moving towards the chosen goal.