June 01, 2021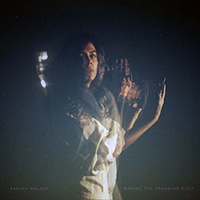 The Reconstellated muffled thoughts of vocal thoughtfulness, complemented by a mysterious musical atmosphere, slowly and leisurely begins the musical narration of the Karima Walker - Waking the Dreaming Body album. The acoustic guitar brings some shades of the country-style into the sound of the Softer song, complementing the sensual charm of the vocal phrase of a singing lady.
The Interlude instrumental intro specifies the intriguing mysteriousness of the following fragment of an album consisting of a song narration dilogy. First, the Window I derives the vocal sensuality on the front edge of the musical image, complementing vocal reflections to mysterious echoes, percussion of the oral and keyboard. The first part of the dilogy of the wind noise is completed, anticipating the inspired melodism of the Window II composition.
Symphonic instrumental suite Horizon, Harbor Resonance enchants thoughtful reflections with the influence of classical music, completing the extensions of cosmic currents that intriguing the further development of the musical essence of creative artwork. The Waking the Dreaming Body title track is charming pensive handles of vocal reflections woven with a soft chime strings of an acoustic guitar. The For Heddi track completes the album to the instrumental thoughtful, based on keyboard variations.