July 15, 2022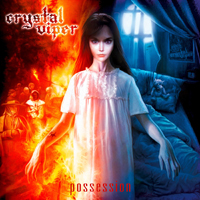 The Zeta Reticuli instrumental introduction opens the musical gates of the Crystal Viper - Possession concept album, which manifests its essence already in the next composition, explaining the essence of the obsessed and the feeling of the otherworldly influence of the Voices In My Head. After a sparkling and artistic introduction, the Julia Is Possessed epic tale fascinates the listener with echoes of medieval legends in unity with musical drive, complementing the sharp and furious female vocals with a background sing along to male harsh vocals.
The Fight Evil With Evil epic saga seems to carry the battle into the atmosphere, complementing the harsh vocal narrative with the echo of the ringing of swords, again and again returning to guitar solos in instrumental bridges. In the vocal part, the male vocals replace the female in the main role, emphasizing the epic component of the musical manifestations in the Mark Of The Horned One composition, retaining the influence of medieval battle tunes, which are completed by the brooding and unhurried Why Can't You Listen? song with shades of bard ballad and a battle march.
The rhythmic musical step of the You Will Die You Will Burn composition in the chorus elevates vocal phrases to the top of the musical narrative in a rhythmic mid-tempo procession, then enchanting with a bright guitar solo of the introduction, setting the way for the We Are Many main motif and further complementing its sound with a vocal part. The Prophet Of The End ballad fascinates with the unity of the melodic charm of music and the sensuality of vocal inspiration. The Thundersteel (Riot (USA) cover) musical thriller concludes the album with a reimagining and tribute to the inspirations of creativity.