September 20, 2016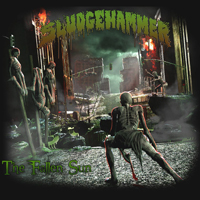 Nowhere to run, no use to hide - have to face the rays of Sludgehammer - The Fallen Sun !
Quickly, powerfully and vigorously Demons From The Woodwork begins this artwork. Twists in its sound the male growls and clean vocals, weaving them together by branched interesting guitar riffs.
Intestines Entwined continues to build artful guitar sounds, screaming adds to vocal shades, clean leaning to harsh. By varying the tempo and rhythm recreates the amazing fascinating picture! At the end of harsh delivers a monologue, then the vocals styles join forces in a single burst.
The Black Abyss story starts with quiet sad melancholic piano passage, then continues by the grim viscous music with nervousness and emotional vocals. Next growl tightened sound canvas with its mighty power, music raises its pace to show its comprehensive fierce by proclamation of unlimited wrath!
Sighs, strokes and rhythmic beats cause howls - Ectogenesis followed them with rhythmic clear entry stage for the subsequent spurt, combining sharp staccato guitars with a mighty snarl growling. Then in the bridge and the chorus tunes is slowed down and tightens it musical pallete.
Guitar picks celtic folk tune with fun and pleasing ear dance tune, then Carrion Eater except fun and joyful folk music opens other parties and shades of the musical component of his style, combining a variety of rhythms and combining vocals from clean to growling in the unite musical stream.
Folk dance motifs are changed to modern, calling for moshu, slam and frank fight - so, to the fullest Consuming Afterbirth! Then the rhythm and flow of the music changes their subordinates vocal commands, speeding up the pace under harsh and thickening and becoming a growling rhythmic blows from time to time.
Paying respect to the previous music, which had a chance to be educated and inspired for a subsequent creativity Carnivorous Forest brings notes of hard and blues rock, without imposing it, but paying homage as a grain of inspiration.
Melancholic sad notes exalt the memory of the past in the guitar fingering in intro of Utopian, then growling vocals splashes out a powerful chan angry frustration. Later vocals demonstrates its significance and diversity, reborn from the net to the growling, screaming through the prism volatile. Then follows the lyrical melodic guitar solo - and another vat perturbed indignant growl splashes out around again!
Thicken the atmosphere of popular anger, angry flash groups - all have tuned Revolting to replace the existing order! Powerful tight brutal rhythm, complementing the strong growl inscribes nervous and clean vocals in its rhythm, shading its history with nervousness emotional tinge.
Epic folk riff starts the bonus part of the album by Organ Harvester (Bonus) track, then furious and fast parts with sharp growls interspersed with melodious tunes respite clean vocals, dreamy leading its history notes supplementing growling growling his sublime emotions. At the end of track clean and growl vocals combines their stories, muting speed and condensing burden of melodic bridges.
After a short oriental riff Casualties (Bonus) immediately drastically accelerate the pace, increasing the power and fury, that after an emotional exclamation combines instrumental rage with vocal harshness. But this infamous spike is short, after the verse follows ornate, intriguing bridge. Then the angry beam continues with the next verse. Then, the story slows down the pace, preferring ornate intricacies against unbridled fury. But at the end of the motives and direction are combined in a single burst faceted power and fury eastern riff from the beginning.