September 19, 2016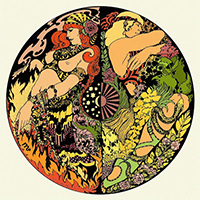 When you do not know what, how and why - perhaps Blues Pills - Lady in Gold come to you again?!
The title track Lady in Gold without the slightest delay begins the story - that things can be different, but looks as the same. The story takes a lively and entertaining!
Little Boy Preacher starts with light instrumental accents, drawing a line over vocal phrases. Then vocal accompaniment becomes more insistent, and the voices are formed in small chorus - which points to the lie that brings the preacher! He's a liar, - they tells to all of us!
A quiet entry slowly and carefully begins the story of Burned Out. The story continues, filled with melancholy and disgruntled emotions. Insistent rhythm stubbornly pursuing his way through the limits of sadness and requests - release me!
Sadness and disappointment are in need of support and change - ballad brings hopes and indicates a desire to improve that the lady saysI Felt a Change, Begin these changes - with a request for forgiveness for what she had done.
Thoughtfully and balanced story starts Gone so Long, then his voice gaining emotional weight, increases vigor and persistence, musical palette is complemented by sound more and more new instruments and ends with a complete picture of the composition.
Cheerful dance sounds Bad Talkers, rejecting wistful sadness and sorrow sad - fun, dancing and joy is full of bright and attractive!
Leisurely begins the story by explaining that, in order to understand and accept - You Gotta Try! Then in the bridge and chorus increases the density and strength of vocal and instrumental part, returning to the explanations and exhortations in the following verse to the last chorus to reach the highest saturation limit.
There is no sense to come back - so Won't Go Back without delays and tighten makes its outline through the old regrets, opening the way to a new reality - where disappointment will only ghosts of past memories.
Brushing away past disappointments and regrets, Rejection opens up new horizons - pointing to the path leading accomplishments emotionally story, keyboard passages soar over that as the sublime cloud decorations.
Tony Joe White cover Elements and Things completes entire album. Cover much faster and musicaly richer then lyric brooding original. Emotions splash in all directions - as the foam from overflowing mug of beer!