March 03, 2020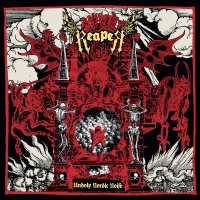 Intro begins with a soft and thoughtful acoustic chime of guitar strings, then complementing the Reaper (SWE) - Unholy Nordic Noise album's introduction with vocal reflections with a creaky musical background, but then Hero Of The Graveyard Flies explodes with whirlwinds of rampant drive, weaving vocal and musical passages in a rampant dance of furious drive.
The Severing Tentacles Of Faith guitar introduction raises the banners of a furious musical action movie, vocal phrases complement this rustle of the black knights with creaky notes. Then Arctic Wrath - Blood And Bone guitar solo swirls around the vocal part a sweep of swift, dusty winds. The pulsating Order Of The Beelzebub march pumps the waves of musical drive, raising vocal phrases to the crests, varying the dominant harsh vocals with clean vocal parts. The buzz of an insect swarm divides the compositions, anticipating the brooding twilight of the Horn Of Hades epic intro, culminating in the swift drive of a musical action movie that embodies and completes motifs embedded in the intro.
Without hesitation and preparation, The Birth Of War throws listeners into the crucible of battle, enveloping him with vortices of combat training. Then Surrender To The Void continues the gloomy whirlwinds of musical passages enveloping vocal phrases brought to the forefront of the musical narrative.
Twisting from the whirlwinds of musical passages, the tunnel of the This Crystal Hell main motive encircling vocal phrases plunges them into the abyss of uncontrolled race. Ravenous Storm Of Piss continues the musical narrative of the rampant fierce musical action movie, which builds honor to the ancestors of metal music. By introducing some musical twilight, De Kralande Maskarnas Kor transforms the musical narrative, expanding the scope of fans of the album, discarding English-language lyrics and introducing influences of the native language. Outro completes the album with a bewitching epic saga.